Case Study: Merrill Street Combined Sewer Rehabilitation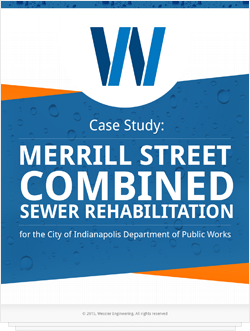 The City of Indianapolis operates an extensive sewer collection system to serve the metropolitan area. As sewers near the wastewater treatment plants, they grow larger in diameter and are more critical to operation. In the summer of 2007, Wessler Engineering was tasked with designing a solution for a portion of the Pogues Run Relief Interceptor (hereinafter known as the Merrill Street Sewer), which is a critical large diameter combined sewer in the heart of downtown Indianapolis. The City's concern for this particular sewer was twofold: first, it was approaching 60 years in age and had experienced a number of operational issues, and second, that it could limit capacity for the main campus of Eli Lilly & Company, the City's largest and most visible taxpayer. Wessler's job was to put a new sewer in place that would increase capacity and extend the service life, while limiting cost and construction disturbance.
Download the full Case Study to learn more about this extensive project.

Get the Case Study
Greentown, IN Case Study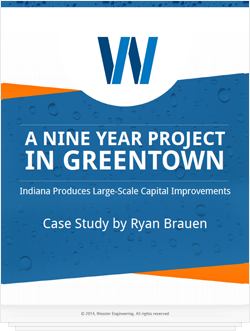 When a treatment plant reaches or approaches 90% of it's hydraulic or organic design capacity, Rule 327 IAC 4-1-3 states that IDEM will notify the operator that a Sewer Connection Ban may be necessary.
The Town of Greentown, Indiana experienced these issues during the past decade. Town officials engaged with Wessler to make major improvements to their collection and waste treatment systems.
The following case study is an overview of a project in Greentown, Indiana that began in 2005 and continued through 2014.
Learn how the Town was eventually released from the Sewer Ban and the Agreed Order, and how the capital improvements they made led to greater energy savings and efficiencies.
Get the Case Study
City of Beech Grove Case Study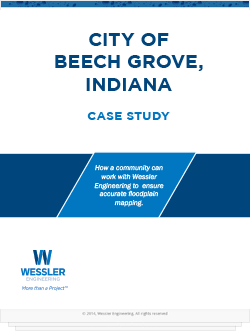 This case study highlights the benefits to the City of Beech Grove from revising their flood rate maps and includes:
Concerns the Beech Grove residents had

Actions taken to address concerns

Results achieved

Insight into working with Wessler Engineering

Get the Case Study