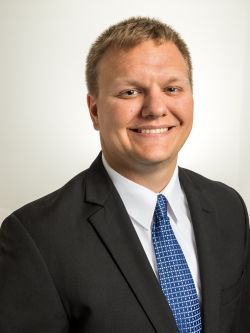 We are proud to announce Brian Sahm, Project Engineer I, as our April Employee of the Month!
Brian interned with Wessler in 2013, before being hired on full time the following year to join our Electrical group. Brian employs his technical knowledge to plan, design, and bid sophisticated power systems and controls for low and medium voltage equipment, as well as standby power systems.
We had him answer some questions on his time at Wessler, as well as what he likes to do in his spare time.
I currently work in the electrical and I&C group for Wessler. My job is to provide a complete electrical system including power, standby power, controls and instrumentation to allow plant equipment to communicate.
What does the "Wessler Way" mean to you?
The Wessler Way to me means providing not only a complete and functioning project, but building relationships with clients. We are here to help not only in the design phase, but we want to make sure the client gets exactly what they need and that they feel comfortable working together to find a solution. Our clients are part of the Wessler family.
What are some of the most valuable lessons you have learned?
There is always another way. Like every discipline, there are multiple pathways to achieve a solution. It is imperative that everyone takes the time to hear alternative solutions because they can be extremely valuable for future designs. I also believe that you should learn something new every day. No matter your age, if you do not take something new from your job each day, then you are not bettering yourself as an engineer. Knowledge is the key to success.
Outside of work, what are some of your favorite hobbies?
I enjoy hunting, fishing, and scuba diving. Many times I may come back empty handed, but the escape from society and the relaxation that comes from sitting alone in the woods is second to none.
You own a landscaping company. Can you tell us a little bit about that?
I started "Sahmscapes" when I was 15 years old with just a push mower and some miscellaneous equipment. My hunting and fishing hobbies required financial backing, so each spring I would celebrate as the cash flow returned to go and buy the new gear. Slowly I began to grow the company and ended up hiring high school friends to help complete my larger landscaping projects. I had not intended for the company to become more than just some side income, but eventually I found myself landscaping every night after school and on the weekends. College came around and I would return home on the weekends during mowing season to complete my projects. The company I had intended to end when I went to college continued to grow and, to this day, Sahmscapes continues to help provide mowing and landscaping solutions on the south side of Indianapolis.
You are a certified rescue diver. How did this come about? Any interesting stories?
My father and Uncle picked up the hobby back in the day, so when I saw classes being offered while in college I jumped on the opportunity to learn. My girlfriend Karina also scuba dives, but she is a scuba instructor. When it came time that I could continue my training and move up to Rescue Diver, Karina and her mom certified me, along with the help of my uncle who acted as the victim I had to rescue. I do not recommend to anyone that you receive a rescue diver certification from your significant other or family member, as I was nearly the one that had to be saved by the time that course was complete.
If you could do anything or wish for something, what would it be?
I wish that my father's golf skills could have rubbed off on me. He was a runner-up in State in high school and conducted many of his business meetings on the course. Now that I have ventured into the business world I see that the golf course can be used as an excellent tool for productive meetings. My meetings usually run over, though, as I have trouble keeping the ball in the fairway. Maybe one day I will take up lessons and straighten out the stroke, but, until then, I will have to live with the fact that golf is not an inheritable genetic trait.